February 25, 2012
For the past year Turkey has been touted by the American press, and by many in the American government, as a model for the Arabs to follow as they are beginning to replace dictatorships with democracies. And indeed, as we have seen over the past six months, particularly in Tunisia, the Turkish system of an Islamist government that is also a secular democratic government has captivated voters. It's a little different in Egypt, of course, where the Muslim Brotherhood and the more extreme Islamist party, the Hizb al-Nahdah, have won a majority of seats in the new assembly. How alive and well secularism and democracy will be in Egypt is still very much a hanging question.
But how democratic and even secular Turkey really is has also become a subject of fierce debate within the country itself. The ruling Islamist-leaning Justice and Development Party (AKP), headed by the prime minister, Recep Tayyip Erdogan, is still enormously popular in Turkey, as evidenced by its landslide reelection victory in last summer's elections. In many ways, it's not surprising. Turkey is a heavily Islamic country. Istanbul, for instance, has more mosques per square kilometer than any city in the Muslim world, including Mecca. And while few women wear chadors or burkas, the majority of Turks are fairly traditional Sunni Muslims. But the AKP has also presided over a booming economy, and, for most here, this matters even more than the AKP's religiosity. Within the past year, however, there are growing signs that both secular and democratic principles are less important for the government and the ruling party than is power itself.
Almost from the moment Erdogan was first elected prime minister in 2003, he has demonstrated a clear fear (some critics call it paranoia) of being ousted from power by force. He has reason to be on guard. Modern Turkey has been plagued by military coups. In addition, Erdogan's first political party, the Welfare Party, was outlawed because the Turkish constitution zealously upholds Ataturk's unwavering principle of secularism in government, and he and his party were perceived by the courts and by the then-ruling CHP (Republican People's Party) as being a religious organization. Erdogan was given a ten-month prison sentence but was released after six months. Undeterred, he and his associates regrouped and founded the AKP in 1998, which adopted a policy of secularism underpinned by Islamic fundamental principles. Partly because the Turkish economy under the CHP was disastrous, the AKP swept into power in 2003.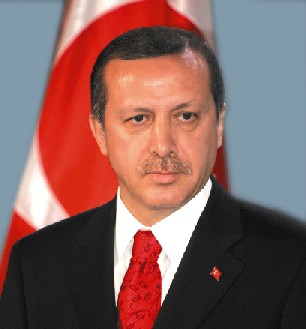 Recep Tayyip Erdogan
The military in Turkey has an ambivalent reputation. Some view the army as the guardian of the constitution, poised to enforce Ataturk's insistence on a clear division between mosque and state. Others see the military as a ruthless bunch of ultra-nationalists who have little regard for democratic principles and who are quick to stifle any possible compromise of Ataturk's original vision of a strong central government in which Islam is seen as the political enemy.
Erdogan and the AKP are among those who view the military with great distrust. It was not much of a surprise then when, last year, a number of military officers were accused by the justice ministry of plotting to overthrow the government. The investigations began in 2007-2008, but in those years just a few officers were arrested; by the end of 2011 over 400 current and former officers, among them many generals and admirals including the former chief-of-staff of the armed services, were swept up and imprisoned. When the round up began, many Turks breathed sighs of relief. The memories of coups are generally not pleasant for most of the population. By the end of 2011, however, some Turks were beginning to feel that what was really going on was that Erdogan and the AKP were attempting to consolidate power so that they could push forward a secret "Islamic agenda" without fear of military intervention. This theory has been fueled in part by the fact that, so far, no military officer has been put on trial, nor has evidence against the accused plotters been made public. The Turkish government has apparently shared some of the evidence with the American embassy in Ankara. According to a cable published on the indefatigable Wikileaks site, in both 2008 and 2009 the Turkish police briefed the Americans on the alleged plot to overthrow the government.
The arrests have not been confined simply to military officers; journalists, too, have been targets. More than a hundred journalists now sit behind bars, with no trials scheduled and no evidence against them circulated in public. The attempted silencing of the press has created an even bigger chill in the country and has made allies out of right-wing nationalists, liberals and far-leftists. Among those in jail are several highly respected editors, writers and publishers. Among the more high-profile internees are one of Turkey's most eminent publishers, Ragip Zaragolu, a respected constitutional law professor, Busra Ersamli, and distinguished investigative journalists
Ahmet Sik and Nedim Sener. All are vaguely charged with aiding the political wing of the outlawed PKK (Kurdistan Workers' Party). The arrest of Zaragolu, who has long challenged censorship, sent shockwaves across Turkey and even internationally. PEN International, the worldwide association of writers, denounced the arrest in very strong terms. And American PEN delivered a petition to Secretary of State Clinton. Ahmet Sik and Nedim Sener are vaguely accused of conspiring with a gang aiming to overthrow the government – a gang whose criminal activity they had exposed in the past. More recently, Sener (who was named a World Press Freedom Hero by the International Press Institute last year) and Sik had begun investigating the activities of a powerful Islamic network with links to the government. Among evidence seized during Sik's arrest was a book he was writing, in which he claimed that the Turkish police had been infiltrated by Islamists. Prosecutors ordered every copy of the manuscript, which they described as an "illegal organizational document," to be seized. Apparently, one copy managed to escape the searches and seizures, and, last November, his book was finally published with the efforts of his friends. Last fall, it went on display in a grand act of defiance at the Istanbul International Book Fair. This is only one example of tremendous courage on the part of Turkish writers, journalists and editors. Despite these arrests, a fair number of very committed Turkish writers and columnists have continued to speak out against the wholesale incarceration of their fellow scribblers. The Europeans are also keeping a watchful eye on Turkey. The Paris-based Reporters Without Borders' (RSF) listed Turkey as 148th out of 178 countries in its World Press Freedom Index for 2011.
Even some Americans are getting involved. On January 30 the Brooklyn writer Paul Auster, who is also vice-president of American PEN and whose novels are extremely popular in Turkey, gave an interview to one of the leading Turkish papers, in which he announced that he would not come to Turkey "because of imprisoned writers and journalists."
These statements created an immediate backlash from Prime Minister Erdogan:
Paul Auster gave an interview to a Turkish newspaper recently. He said he will not come to Turkey as he finds it anti-democratic and because of arrested journalists. Oh! We were much in need of you! If you come, so what? If you don't come, so what? Will Turkey lose prestige?
Erdogan continued, attacking Auster next for his willingness in the past to visit Israel:
Supposedly Israel is a democratic, secular country, a country where freedom of expression and individual rights and freedoms are limitless. What an ignorant man you are. Aren't these the ones that rained bombs down on Gaza? The ones that launched phosphorus bombs and used chemical weapons? How can you not see this?
Auster responded: "All countries are flawed and beset by myriad problems, Mr. Prime Minister, including my United States, including your Turkey, and it is my firm conviction that in order to improve conditions in our countries, in every country, the freedom to speak and publish without censorship or the threat of imprisonment is a sacred right for all men and women."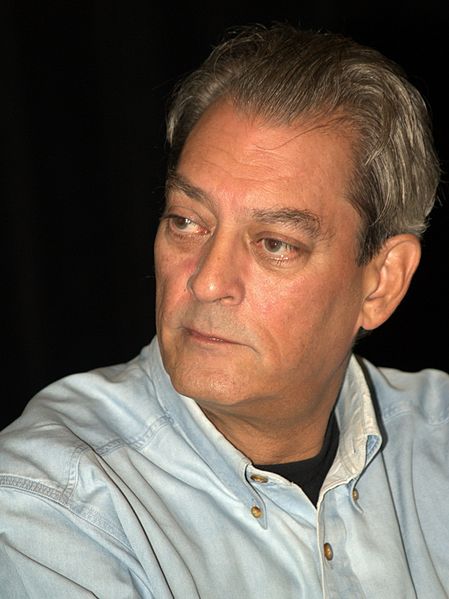 Paul Auster
Erdogan, not yet satisfied, retorted: "We have a situation here that Western intellectuals have never experienced. In the West, journalists do not take part in coup plots, they do not write books to lay the ground for coups." The CHP, however, is urging Auster to come so that he can see firsthand how Turkey is squelching press freedom. This, in turn, brought another angry response from Erdogan. "If that writer responds to the CHP's invitation and comes to Turkey, let them go together also to Israel and picnic at a hill overlooking Gaza." As of this writing, Auster has yet to make clear his intentions of whether or not he will visit Turkey.
The opposition party, the CHP, has also been very actively engaged in attempting to make public at home and abroad their concerns that democracy is truly at peril in Turkey. Recently the head of the CHP, Kemal Kilicdaroglu, published an op-ed piece in the Washington Post in which he denounced Erdogan as a "post-modern dictator." "[In Turkey], one gets arrested; then authorities gather evidence to establish an infraction. Presumed guilt is the norm. Sadly, all opponents of the government are viewed as potential terrorists or plotters against the state."
Erdogan, characteristically, denounced Kilicdaroglu, claiming that the CHP leader was at the forefront of a "very ugly and dangerous campaign to smear Turkey." "We will struggle against this black propaganda. We will tell the whole world over and over again that not journalists and writers but people who plotted a military coup and engaged in terrorist activities are in jail," added Erdogan. The war of words has continued. The exchanges between the AKP and the CHP got so heated on February 9th that an actual brawl erupted on the floor of parliament with members of the opposite parties pushing and shoving one another and, in at least one case, engaging in light fisticuffs.
The domestic and international criticism of Turkey has not suppressed Erdogan in the least. He declared that his mission, and that of his party, was to "raise a pious generation." Immediately, warning sirens went off in the minds of many Turks who have felt, since the establishment of the republic, quite free to practice (or not practice) their religion as they saw fit, and to raise their children according to their own beliefs. Erdogan, under increased fire to clarify his position, seemed only to dig himself in further: "There is no reference to people as pious or non-pious in my statements. There is the ideal of raising a pious generation. I stand behind my words ... Do you expect us, the AK Party, which has a conservative-democrat identity, to raise an atheist generation? Should we, instead, raise homeless drug addicts?"
Of course, the opposition went into overdrive. Almost every columnist in the major dailies commented. Semih Idiz, writing in the centrist newspaper The Milliyet, noted that no one was doing more to cement the idea that the AKP did have a "secret Islamic agenda it will activate once the environment is ripe." Others came to the AKPs defense, but even a columnist in the Islamist Zaman remarked that this seemed to be an absolute flaunting of the constitution. Others echoed this idea but pointed out that, with most of the military brass in jail, the Turkish people couldn't count on the military to safeguard secularism.
On the street, the debates are continuing. Indeed, in every teahouse in Istanbul, the locals are talking about the situation in the country. On the buses, in restaurants, in the barbershop, it's a frequent topic of conversation: almost as dominant in conversations as soccer. My students, too, are very worked up over the loss of democracy in Turkey. As one recently remarked: "Perhaps the Arab spring should be a model for Turkey."